Since 1974
Fun and festivities of Trivia Night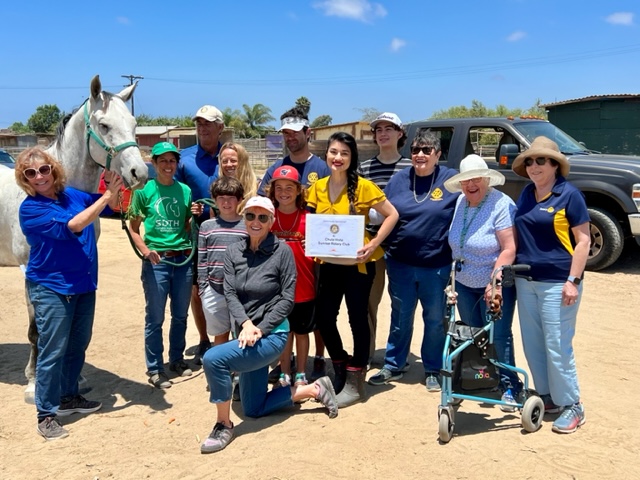 The Rotary Club of Chula Vista Sunrise is an active committed group who meets most Thursday mornings at 7 AM and one evening meeting per month at 6:00 PM. We are involved in many community outreach projects and are pleased to be a partner with various local charities. We are also committed to serving the youth of our community by actively sponsoring students in leadership opportunities and supporting the Interact Clubs at Hilltop and Bonita Vista High Schools. In the past Rotary year, the small but mighty Chula Vista Sunrise Rotary Club had a total outflow of donations, including funds to support high school service and leadership programs, of $34,800.
Last year's Trivia Night fundraiser provided us an opportunity to give back in a variety of ways. Congratulations to the local groups that were honored. South Bay Sustainable Communities and Just in Time for Foster Youth each received checks for $5000.
This SBSC donation will assist them in getting closer to their goal of building a more sustainable South Bay through education and community engagement in environmental conservation, composting, and urban farming programs. The support to Just in Time will help foster youth in transition to achieve self-sufficiency and well-being.
Two $4500 donations were given to support the San Diego Therapeutic Horsemanship, which works with military veterans and children with special needs, and to the San Diego Rescue Mission. This donation will assist SDRM with providing meals, shelter, clothing and hygiene items to those without a place to call home.
Two $2500 donations were also given to the Chula Vista Animal Care Facility and Loving You Through It. Funds donated to the CVACF will help provide vaccinations to shelter dogs and cats. Loving You Through It funds will help provide complimentary services to women undergoing chemotherapy during cancer treatments.
The final contribution was donated to the Chula Vista location of the San Diego Blood Bank. Chula Vista Sunrise Rotary wanted the financial support to remain in their local community.
Globally, we have been involved in many grants that have brought disaster relief to many. Our current Rotary International Global Grant is "Train for Change," assisting teachers in Honduras.
Our Trivia Night fundraiser gives us the opportunity to make a difference in the lives of many. Thank you for your participation.
ARE YOU
Interested?
If you are interested in coming to a meeting to learn more about our Rotary Club, please send us a message below. Please refer to our calendar, as we sometimes take the week off from a meeting to attend service projects or social events!